Join Longboat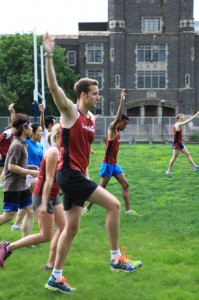 If you've ever wondered what kind of runner you could be if you only applied yourself, joining a running club is the best place to start!
Training with a group will fundamentally change the way you train and how you approach running. The group dynamic and push from the company you keep transforms running from a solitary drudgery to a rewarding team workout.
If you are interesting in joining Longboat, please read the frequently asked questions and explore the website to learn more about the club. Please email the President for more information and to join us for a run!
If you are joining for the first time or renewing for another year please ensure you read the "What are my responsibilities as a member?" below before going to the online registration.
To join or renew your membership? Click HERE!
Frequently asked Questions
Q: How far should I be able to run?
Longboat is mainly focused on middle to long distance road racing. Before joining, you should be able to run at least 10K continuously. If you are just starting to run and still need to build your fitness level, there are excellent programs offered by the Runners' Shop.

Q: Do I have to be fast to join Longboat?
Although our members have a reputation for being fast, Longboat is open to runners of all abilities. Click here to check out the club's race results and you will see the range abilities within the club. To see if Longboat might be a good fit for you, compare one of your recent race results to those of our members.
Q: How many times will I have to run a week?
Longboat has three regular group runs every week – Wednesday, Saturday and Sunday. There is no pressure to attend all of them but we strongly encourage you to join in at least one or two runs per week. Click here for more information on the group runs.
In addition to group runs, you are also encouraged to run on your own. Most members run 3-7 days a week depending on their individual goals and training programs. It is important to increase the frequency and distance of your runs gradually to avoid injury. The coaching team will help you determine what's right for you.
Q: Can I run with Longboat before joining?
Of course! You are encouraged to join us for a run or two before deciding if you are interested in becoming a member. You need to determine if Longboat is a good fit for you and your running goals.
Q: I've decided that Longboat is a good fit for me. How do I register?
All members are able to register online – it's really easy and is just like registering for a race. There is a reduced fee for full time students and retired members who have been members for 10 years. The membership year is January to December and all members are required to renew their memberships in January. If you join the club as a new member after October 1st, your membership fee will be waived for the new year.

Q: What are my responsibilities as a member?
Once you become a member of Longboat, you are asked to meet the requirements of the club's Constitution.  The document outlines the club's administrative/procedural processes and membership commitments. These commitments include:
Volunteering in club fundraising events (i.e. helping with the Toronto Island Race is mandatory);
Wearing club clothing during races (you are provided a free singlet when you join!); and
Not running for another club in the GTA (unless it's for school/work team or a provincial/national organization).
If you would like to read the constitution, please click here. Ask any member of the Board of Directors if you have questions!
Q: If I'm a member, can I get an individual training program?
The club offers informal training advice to every member, but many of our members also receive individualized training programs from our team of coaches.  Members that are interested in receiving coaching should contact the Coaching Coordinator by email at Coaching@longboatroadrunners.com.
There is a calendar year fee for coaching services in addition to the membership fee. The Coaching Coordinator will ask you to fill out an Athlete Profile that asks questions about your running experience, current training and athletic goals. Based on this information, you will be assigned to one of the club's coaches and given specific workouts on a weekly basis. Members are asked to maintain regular communication with their coach and provide reports on their progress.