Club Events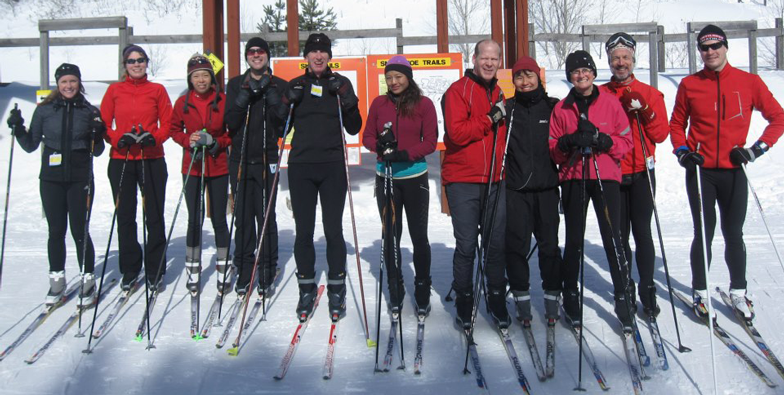 There are a number running and social events that members look forward. Our Social Coordinator organizes activities throughout the year (e.g. cross-country skiing, comedy night). Check out the events calendar to find out what's coming up.
New Members Brunch
| | |
| --- | --- |
| Every March, Longboat hosts a brunch to welcome new members to the club. The morning starts with a friendly relay competition where new members are paired with other members in the club. Teams are chosen strategically so that everyone finishes the relay at about the same time. Prizes are awarded to the top teams and the runners who have the fastest individual legs. After the relay, brunch is served (free for new members!) and we hear from a guest speaker. In recent years, we have had some of Canada's top marathoners – Krista DuChene and Reid Coolsaet – speak to us about their training and experiences. | |
Track Race – Mile or 1-Hour on the Track

Each summer, members head to the track to race one another. The event alternates every year between the mile and 1-hour on the track.

For the mile, members sign up and are placed in heats to compete against fellow members. The mile is fast, painful… and always exciting! You don't want to miss this one. The next mile race will be held in the summer of 2015 at Varsity Stadium (University of Toronto).

For the 1-hour on the track, members run laps of the track for one hour to see how many laps they can do (Don't worry you don't have to keep track! There are volunteers for that). The member who runs the most before the horn blast wins! You might be asking yourself, why one hour? Running for an hour sounds easy but this event is all about pacing. Not too slow, not too fast… it has to be just right. For fit individuals, the pace they can sustain for 60 minutes is their lactic threshold. To learn more about lactic threshold and why it's relevant to your training, check out these articles from How Stuff Works and Running Times. The next 1-Hour on the Track race will be held in the summer of 2014.

Cross-Country Race
| | |
| --- | --- |
| Every fall, Bert de Vries sets up the most challenging cross-country race he can in Riverdale Park. This course is not for the faint of heart… come prepared to take on the challenge as you run up, down and all around the park. The race is followed by a dinner in Cabbagetown. The male and female winners of this event will receive the Cross-Country Award at the club's dinner and awards banquet. | |
Dinner and Awards Banquet
| | |
| --- | --- |
| At the end of every racing season, our club comes together to celebrate the commitment and achievement of members over the past year. This is usually a busy evening that includes our annual general meeting, dinner, presentation of awards and dancing. This is the one night of the year when members trade in their split shorts for ties and cocktail dresses. It's another great event that's not to be missed! | |